I WOULD LOVE TO BE IN TOUCH WITH YOU!
Fill out the form below and I will include you in my newsletter.
ABOUT RICARDO
Ricardo Chávez is a Multi-Awarded Actor, Celebrity Life Coach, Best-Seller Author, Speaker, Entrepreneur, Martial Artist and Philanthropist who's mission in life is to use his talents and faculties to provide knowledge, inspiration and to console those who feel lost in their own paths.
A Renaissance Man…
Get the Latest Book from the Bestselling Author
Your Life
 Does Not Have To Be
A Soap Opera
The Truth About Reincarnation, the Existence of Spirits and Life After Death.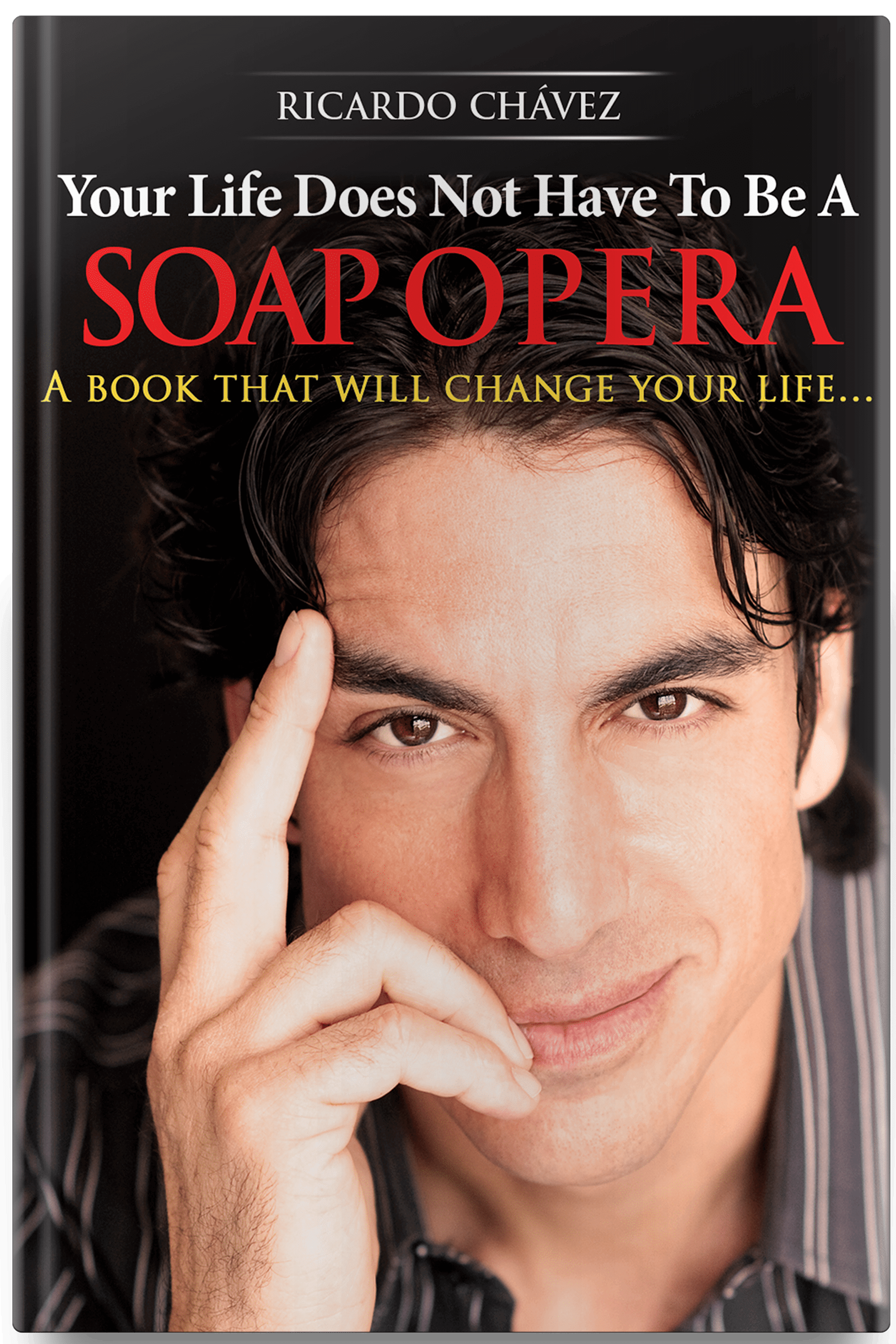 What my wonderful clients say

I'M SO HAPPY!
It's been eight months since I met Ricardo. A friend of mine, who he coached, and who was very happy with the results, took me to see him. I was completely lost and had no idea who I was or what wanted from life. Ricardo helped me to find myself again. He thought me how to face my problems wisely and fearlessly. He showed me the power of self-love and gratitude. Besides having him as my life coach, I also started a fitness program with him. I wasn't happy with my body and Ricardo, with mastery, started training me daily. He thought me how to eat correctly and to respect my physical temple. Today I have the body that I always dreamed of and I feel better than ever! I LOVE what I see in the mirror! Thank you, Ricardo, for all your dedication and professionalism!

COMPLETE TRANSFORMATION!
Ricardo Chavez has become a true guide in my life. We guys usually don't like to ask for help or to guided by anyone because we think that it would take away our "manliness". Nothing further from the truth!!! Ricardo has empowered me in such a way, that now I feel (and know) that I can beat absolutely any obstacle that life may throw at me! Before doing coaching with him, I was a boring and depressed guy who exchanged hours for time at work. I lacked energy and my self-worth was almost none. But now I feel like a wild horse! Now, people always want to be with me and people even ask for my advice! I feel soooo great and excited about life that I have resumed the dreams and goals that I left lost in my past a long time ago! RICARDO IS THE BEST!!!

RICARDO SAVED ME
I am so happy to write this review and to let people know about the huge difference that my life is now, compared to what it was before Ricardo Chávez appeared in my life. He is someone who REALLY CARES and goes the extra mile for his clients. I was a complete mess due to a nasty divorce, trust issues, super low self-esteem and in general, I had lost any desire to continue alive. My daughter was the only thing that was still making me wake up every morning and now, after only a few months, my life is completely different! I feel COMPLETELY TRANSFORMED! I feel alive! Ricardo helped me to find my purpose in life, to feel important, beautiful, sexy and sacred. My 7-year-old daughter doesn't stop saying how happy she is with her "new mommy". THANK YOU RICARDO!

SO BLESSED!
My coaching sessions have helped me tremendously! The personal growth I've gained from this experience are simply amazing. Even though I live in Europe, Ricardo has been able to greatly help me by having our sessions over Skype. It's been a very inspirational and transformational journey! My life has changed in so many positive ways! I am now more empowered than ever and I am finally working on my life purpose and walking the path to conquering my dreams! I am so happy to have had the chance to work with such a professional, reliable and charismatic coach! I surely recommend him! He has been a lifesaver and a complete game changer! THANK YOU, COACH! 🙂

NEW LIFE!
I've struggled with my weight, most of my life. I used to be insecure, shy and afraid of being around people. I suffered for years from panic attacks, anxiety, depression, you name it… When I met Ricardo, little I knew that my life was going to change completely! Ricardo is compassionate, and his abilities are incredible. He just "knows" what is going on inside me without having to explain anything! Differently from other professionals, Ricardo focused on finding and changing the cause (destructive behavior), instead of simply trying to "fix" the effects (my weight, etc.). So, at this point, I've lost 43 pounds, I feel more energized and sexier than ever and for the first time in my life, guys are looking at me and even trying to meet me! I FEEL GREAT!!!